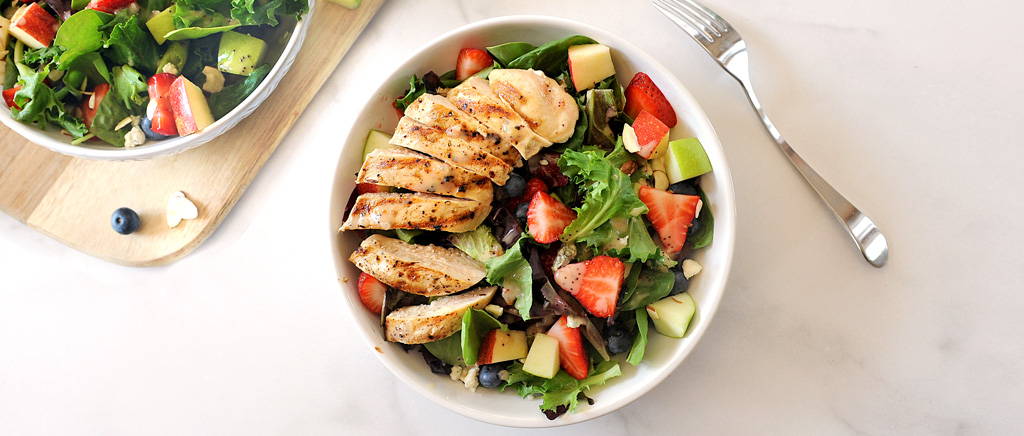 11 Dinners to Beat the Heat
Posted by Jen T. on 07.12.2021
We all know the old expression: If you can't stand the heat, get out of the kitchen.

But sometimes it's easier said than done – especially if you're the one in charge of dinner.

Here in Minnesota, it's been an unusually hot summer so far, complete with highs of 90+ degrees every single week. (In a moment of heat-induced creativity/insanity, my husband even constructed a homemade 100-foot "Slip & Slide" in our front yard for the kids. I'm happy – and relieved – to report that everybody is still alive.)

My point: I think we're all in for a long hot summer. So if you start to feel like you're reaching your boiling point, well – turning off the oven is a great place to start.

Wondering how to beat the heat this summer? Here are 11 delicious ways to keep your cool, even on the hottest days.

11 Summer Meals to Beat the Heat
1. Strawberry Market Salad. Sweet strawberries. Juicy blueberries. Crisp apples and almonds.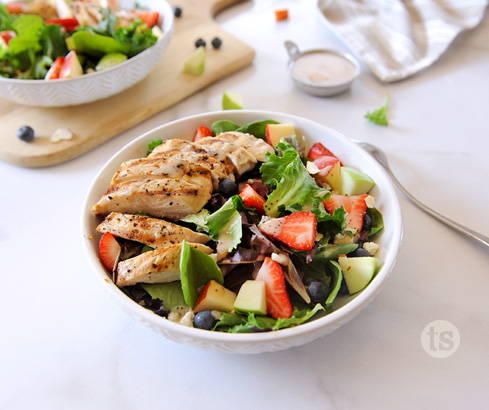 Tossed with grilled chicken and mixed greens, this market-fresh salad is bursting with the bright flavors of summertime – all drizzled with sweet-tangy poppyseed dressing. You can even use rotisserie or Makin' Magic™ chicken if you don't feel like turning on the grill.

2. Tuna Salad Avocado Boats. Quick and fresh, this light lunch or dinner is packed with chunk light tuna, creamy avocado, and crunchy sweet red bell peppers. Pair it with a green salad on the side.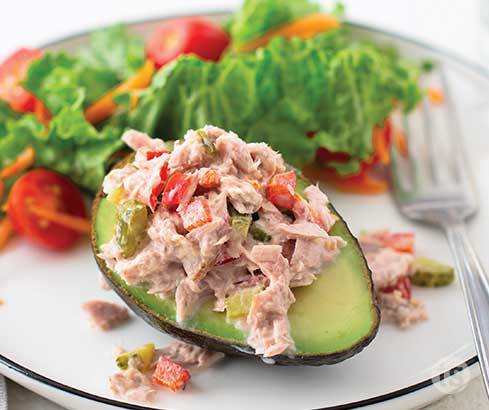 Perfect if you have a Paleo or Keto lifestyle … or if you're just trying to cut back on carbs!

3. Cobb Salad Wraps. Get dinner all wrapped up – without turning on the stove. So crunchy and colorful, these fresh and delicious wraps are filled with smoky-sweet bacon, chicken, tomatoes, avocadoes, cheese and hint of creamy rosemary aioli.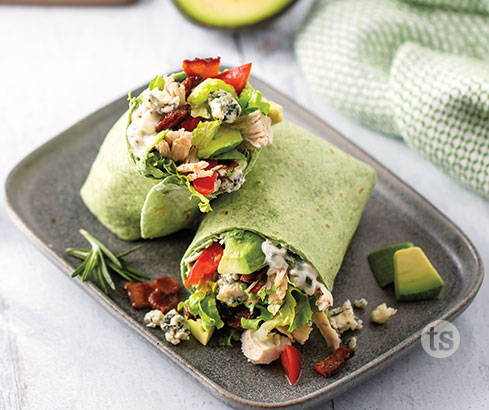 Serve 'em with fresh fruit or kettle chips.
4. Bruschetta Grilled Chicken. Dining out on the deck? Ready in only 30 minutes, these sizzling and perfectly seasoned chicken breasts are topped with melty mozzarella and fresh tomato-basil bruschetta.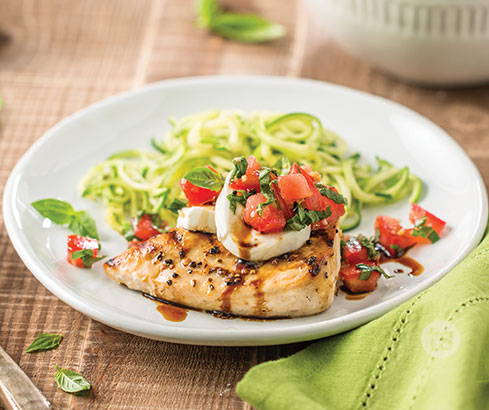 While they look impressive for entertaining, they are actually super simple to make on the grill.

5. Smoky BBQ Pork Sandwiches. Want to let your slow cooker do all the work? Pour a bottle of Smoky Bacon BBQ Sauce over a 3 lb. pork shoulder roast, and cook low and slow for 6-8 hours. BOOM.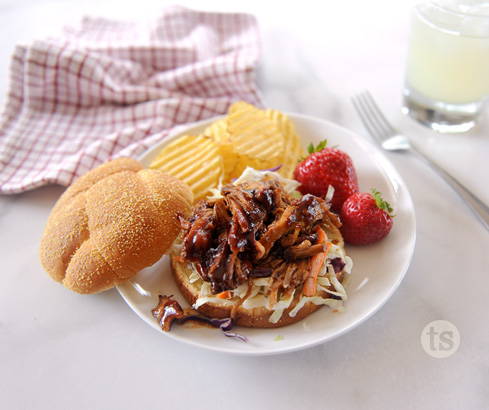 If you have kids with different summer schedules, this tender BBQ pork is a lifesaver since it slow-simmers all day. Serve with fresh fruit or crunchy coleslaw for a delicious home-cooked dinner that's ready whenever you are. (Bonus: if you have any leftover meat, it's great for making a grilled BBQ pizza or nachos, too.)

6. Summer Corn Salad. Bursting with cherry tomatoes, sweet corn, crunchy cucumbers and ripe avocado, this fresh summer salad is one of my personal favorites.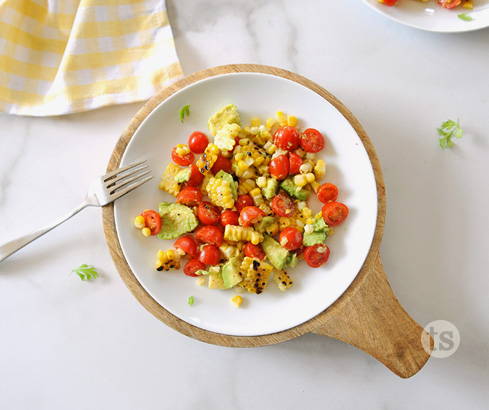 Serve as a side salad with grilled burgers, or add shrimp or chicken to make it a main dish. Tip: You can microwave 1-2 cups of frozen sweet corn if you're in a hurry. But if you have more time, brush a couple ears of corn with olive oil and toss 'em on the grill for 10 minutes. It creates the most amazingly smoky, buttery flavors!
7. Mama Mia Penne with Turkey Meatballs. Love your Instant Pot? Make the most of your multi-cooker this summer with this classic Italian dish, lightened up with lean turkey meatballs.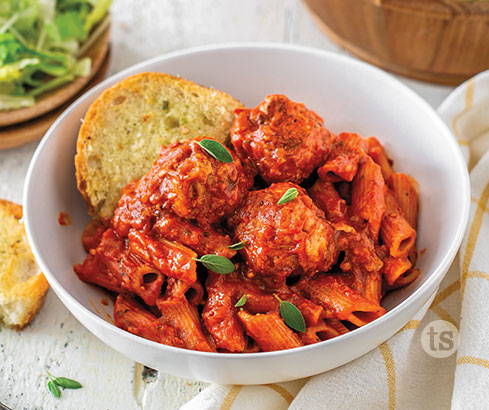 Plus, who doesn't love the easy clean-up of a one-dish dinner?

8. Fiesta Pork Tacos. Street-style tacos are always a summer favorite, particularly when you can pile 'em high with toppings fresh from the garden. Try this succulent shredded pork version, made with salsa verde in your slow cooker or multi-cooker.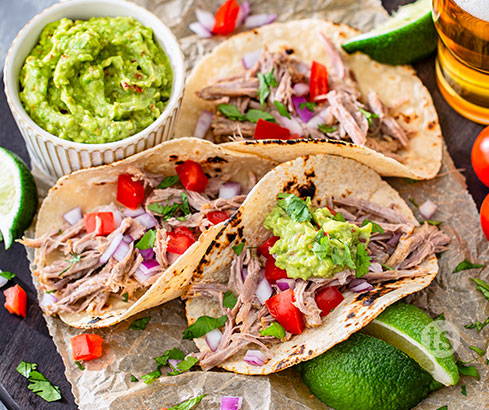 Keep it simple by serving chips and salsa on the side.

9. Beef & Veggie Kabobs. Sizzling and simple, these summery skewers are stacked with sirloin steak, red onions, button mushrooms and sweet red bell peppers.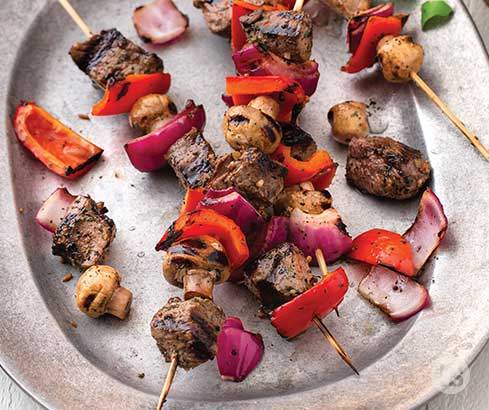 Serve your kabobs with a rice medley or green salad for a fresh and healthy dinner.

10. Grilled Italian Chicken & Tortellini. Wait … tortellini on the grill? You've got it. These fun foil-packet dinners come together in minutes, bubbling with cheese tortellini, chicken and diced tomatoes.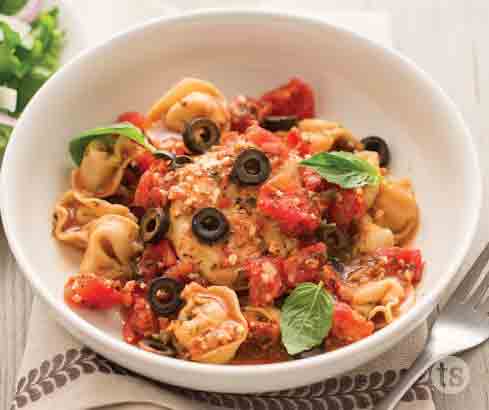 Clean-up is a snap, too! Oh, and if you're not a fan of black olives, substitute mushrooms or sliced peppers instead.

11. Fiesta Summer Corn & Zucchini Soup. Simmering with fire-roasted corn, red potatoes and fresh zucchini, this summery chowder is a breeze. It's a delicious way to use those abundant garden-fresh veggies, too.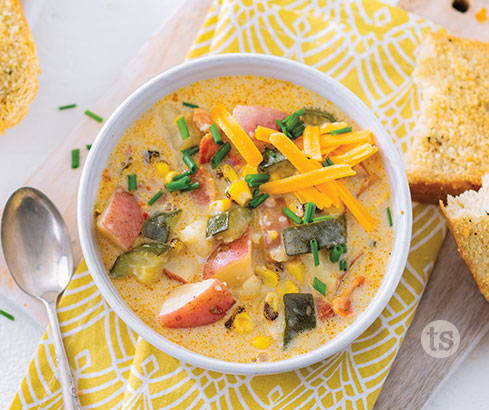 Grilling. Slow cooking. Air frying. Pressure cooking. There are all kinds of different ways to avoid heating up the house. And if you need a little extra inspiration, you can find hundreds of no-cook recipes on Tastefully Simple's website, too.

Here's to keeping your cool – and keeping it delicious – all summer long!


- Jen