Designed to empower you to make healthier choices and develop better habits. This easy-to-follow program will help you eliminate empty calories and enjoy healthy portion sizes. How? Through lower carb, lower sugar, protein-packed and veggielicious recipes. The plan is grain - and dairy-free, and balanced by a registered dietitian. Warning: You may experience side effects such as a healthy glow, peaceful sleep and looser-fitting pants!
Your kit includes products for 14 days of breakfasts, lunches, dinners, and snacks. The program provides for:
breakfasts, lunch, and snacks for one
dinner for a family of four
We include enough servings for dinner to make it easy for YOU to follow the program without having to make a separate meal for your family.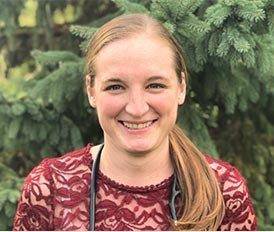 A graduate of Bastyr University, Dr. Carly Erickson is a naturopathic and functional medicine doctor at Evergreen Natural Family Medicine in Alexandria, Minnesota. She is also an instructor at Alexandria Technical & Community College.
here's what I love about the 14-Day Reset
Real food. This plan consists of real food and real ingredients. There are no meal replacement bars or shakes.
Purchase your own food. You get to pick out the quality of your food, such as locally grown or organic. (Check out the Environmental Working Group at www.ewg.org for their Dirty Dozen list of foods to buy organic.) You can shop the sales ahead of time and even use what you have grown in your own garden, which further allows you to save money.
Simplicity. The recipes are simple - tastefully simple if you will - and easy to make, with relatively little cooking experience required. In addition, they are simple enough to make substitutions seamlessly if you have a food allergen or dislike you need to substitute for .
Eat at home. I love any food plan that supports meals at home, particularly as a family. the benefits of family dinners are backed by tones of positive research, from improving academic performance to improved mental health.
Delicious. Eating healthy doesn't have to taste like dirt! These recipes are delicious and loaded with phytonutrients and protein. It makes it possible to eat healthy foods that you love as part of a healthy lifestyle change, not just as part of a "diet plan."
No-Brainer. This plan gives you the menu, recipes, shopping list and even the ahead-of-time preparation tips. It takes the guess work and the "what's for supper" out of it. it really is a no-brainer!
14 days can make a BIG difference!
Check out these success stories from previous participants. Will yours be next?
learn more about the 14-Day Reset
Jessica Downing, owner as Vital Fit Club, discusses the challenges of changing eating habits and how the 14-Day Reset can help.