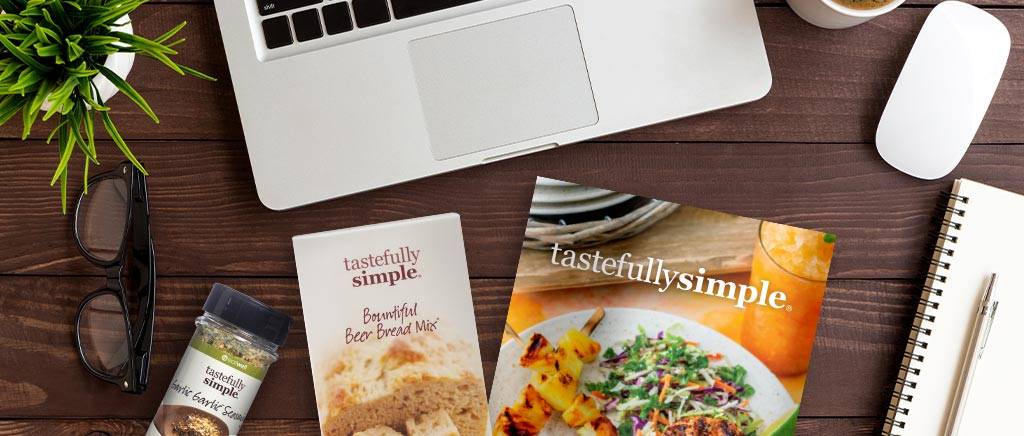 5 Things to Know About the Tastefully Simple Opportunity
Posted by Keri M. on 04.23.2021
The past year has seen many changes in how we work, with more people telecommuting and schedules becoming increasingly flexible to accommodate the "new normal." Now more than ever, the Tastefully Simple business opportunity fits the way you live – whether you are looking for a side gig or a new full-time career.

What do you need to know about joining Tastefully Simple as an independent consultant?
What is Tastefully Simple?
Founded in 1995, Tastefully Simple is a direct sales business that is based on a party plan model. While in-person tasting parties remain popular, many consultants are finding great success working their business exclusively online through Facebook and Zoom parties. Other optional sales channels include your own tastefullysimple.com website, catalog parties, fundraisers and vendor events.
As a consultant, you will offer your clients three valuable opportunities:

the simplicity and convenience of ordering crazy delicious food products with broad-based appeal
the rewards of earning free and half-priced products based on party activities
the ability to start their own Tastefully Simple business



How much income can you make?
Sales commission ranges from 15-40% based on sales volume. Consultants who help others start their own businesses also earn up to 7% leader commission. Additional perks and bonuses include the Fast Start program, which rewards new consultants up to $250 for starting their businesses strong in their first 10 weeks. In addition to cash bonuses, consultants can earn incentives, including trips.
Essentially, efforts = earnings. Your success is in your own hands!


Will your business fit into your busy life?
Great news! Because this is YOUR business, you set your own flexible schedule around your lifestyle. Full-time, part-time or anytime: you set your own goals and plan for achieving them.
Never tried direct sales? No problem! As a Tastefully Simple consultant, you have access to valuable training and support, including:

Your sponsor, who can answer questions to help you get started and coach you as you work toward your goals
Online training and tools to support you at start-up and your continuing growth through Tastefully Simple's consultant back office, myHQ, plus in-person and virtual training events like Party Palooza, our annual national conference. There you will experience motivation, training, recognition and fun!
A suite of online marketing tools, including images and videos to share on all your social media platforms



Are there monthly sales quotas?
Nope! You'll be paid commission twice per month based on your sales. You become an active consultant by placing $200 in orders in your first full calendar quarter. After that, as long as you reach $200 in sales per quarter, you will continue to earn commission and remain eligible for bonuses and incentive rewards.


How do you get started?
It's so simple! Just:

identify your why – are you looking primarily for flavor, cash or fun?
select a kit – the $99 Business Blast Off Kit® if you plan to hold tasting parties as part of your business plan, or the $49 Starter Business Blast Off Kit® if your business will be primarily online.
choose your sponsor – this may be the consultant you typically order from or someone else (we can help you find one).
So, are you in? Does the idea of sharing the simple, delicious FLAVOR of Tastefully Simple with your friends, earning CASH and having FUN make you want to learn more? Discover how you can create a life you love by joining us today!