Dough! Edible Cookie Dough
Posted by Rebecca R. on 10.12.2020
Anyone else a cookie dough eater? (I'm raising my hand right now.) While some people walk out of their at-home office and into the living room after a stressful day of work and crack open an ice-cold beverage, I open the freezer to my secret stash of cookie dough.
So when I saw that Monster Cookie Dough was coming back, I was a bit excited! But this time, there isn't just one flavor of cookie dough – there's also a Snowflake Sugar Cookie Dough. Instead of whipping up a batch of actual cookie dough with all the ingredients, I can just whip up a batch with 2 ingredients and eat it up! It is so stinkin' simple. And the best part is that you can Eat. The. Dough.
Use the cookie dough to top cupcakes or add to your ice cream.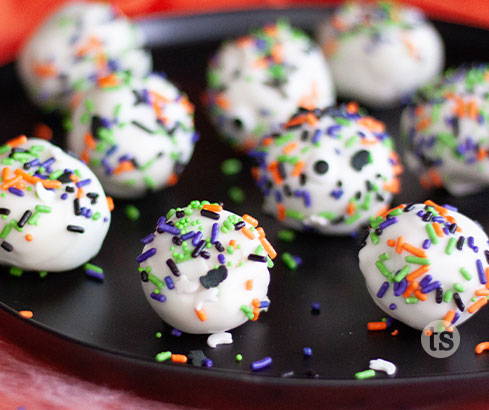 Roll the dough into 1-inch balls, dunk into melted chocolate and sprinkle away for a cute festive treat!
Looking for more of a peanut butter-chocolate combo?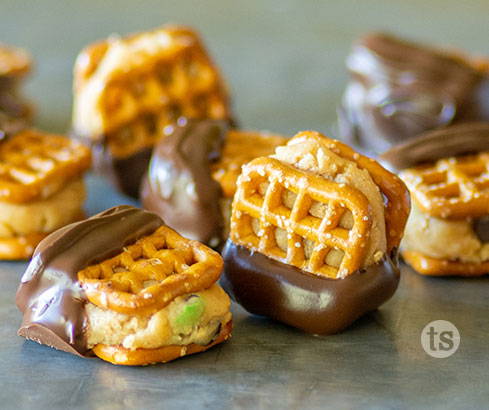 Make up a batch of the Monster Cookie Dough, roll into ½ inch balls and sandwich in between Pretzel Dippers. Dunk the pretzel bite halfway into melted chocolate and put on a wax lined cookie sheet to set. It tastes like a candy bar!
Not a fan of cookie dough? No worries! You can also bake them into delicious cookies. Go a step further and top each cookie with a Hershey's hug – and make them into blossoms. Or take two cookies and your favorite ice cream and make an ice cream sandwich! The possibilities are endless!
Rebecca