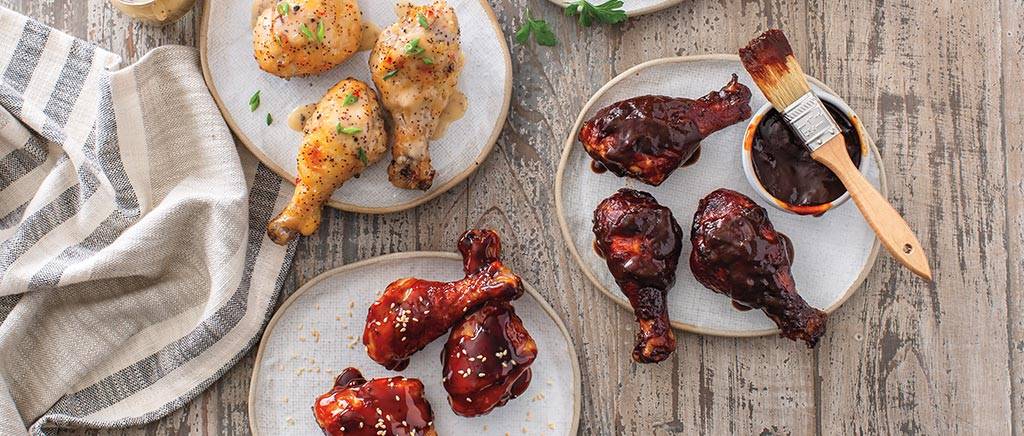 Posted by Keri M. on 05.3.2021
I consider myself reasonably competent in the kitchen, but there are some areas of cooking where I feel less than confident. Grilling, for instance. The charcoal kettle was always my dad's domain, and his motto – "When it's brown, it's cookin'; when it's black, it's done" – didn't inspire me to see an apprenticeship from the family "grillmaster."

Chicken on the grill has always especially made me anxious, having been warned as a child that even a bite of underdone poultry spelled quick and horrible death. True or not, I tend to scrutinize my bird for any hint of pink.

But I like chicken. And I aspire to the title of grill-meistress. So, inspired by the delectable spread of drumsticks in Tastefully Simple's Spring-Summer catalog, I decided to drum up my courage and fire up the grill!

It turns out there isn't a how-to manual – Drummies for Dummies! – for grilling chicken. But a little internet research gave me a few pointers that you might find useful, too:

The "technical stuff":
• To keep the drummies from sticking to the grill, brush the grill lightly with oil as it is preheating.
• Most sources suggest having two heating zones – high and medium. If you're cooking over charcoal like me, plan on cooking over direct and indirect heat. Start the drummies over high heat to crisp up the skin, then finish over medium (indirect) heat.
• Cook with the grill covered for more even heating and fewer flare-ups.
• Grill drumsticks 25-35 minutes, turning every 10 minutes or so, until the meat reaches a temperature of at least 165°F (most sources suggest cooking to 180°F for optimum tenderness and flavor) on an instant-read food thermometer.

The "flavor stuff":
• If you choose a marinade – I suggest tangy Vidalia® Onion Dressing – marinate the chicken legs for several hours in the fridge before grilling.
• Seasonings should be applied just before grilling. Some to try: Citrus Herb Seasoning, Ultimate Steak™ Seasoning (yes, it's fab on poultry too!) or, for a zesty change of pace, Fiesta Party Seasoning or Dried Tomato & Garlic Pesto Mix.
• Feeling saucy? There are so many delicious options! Thick, luscious Smoky Bacon BBQ Sauce is a classic, but variety is the spice, er, sauce, of life! Seasonal and limited-time offerings bring exciting new flavor profiles. Check out Mango Grill Sauce, Mild Moroccan Sauce (while supplies last!) or Raspberry Peach Chipotle Sauce. Or try a glaze, such as Honey Teriyaki Sauce or Bayou Bourbon Glaze. Hint: The Sauce Assortment includes six sauces and glazes to make you the king or queen of the barbecue all summer long!
Whether you sauce or glaze, timing is everything! Hold off on slathering on the delicious until near the end of cooking to prevent burning. Tip: The sweeter the sauce, the more likely they are to char.
• Finally, remove fully cooked drumsticks from the grill to a platter and allow to rest for five minutes before serving.
Of course, as delicious as they are, man and woman do not live on drummies alone. Be sure to check out tastefullysimple.com/recipes for many side and salad recipes to round out your feast. A few delicious choices: Rustic Herb Potato Salad, Vidalia Onion Broccoli Slaw, Sweet & Spicy Bayou Beans, Grilled Corn with Si Si Cilantro Butter.
Grilling season is all too brief; make the most of it by trying all the fabulous flavor possibilities you can imagine. What's your favorite way to grill chicken?