Posted by Keri M. on 12.10.2020
Next to cookies, homemade candies are my favorite treats of the holiday season. But the "chemistry" of candymaking has often defeated me: my brittle burns and my fudge gets grainy. Having to watch a candy thermometer is stressful. (Don't ask me about the time I melted a rubber spatula in a pot of boiling toffee.)
Then I discovered truffles. Not the mushroomy kind – the creamy-in-the-middle-little-biteful-of-heaven kind. True, homemade truffles can be their own variety of fussiness, involving the minefield of melting chocolate … but it doesn't have to be. I discovered the easiest-ever truffles can be made with Tastefully Simple's Snowflake Sugar Cookie Dough Mix and Monster Cookie Dough Mix.
First things first: both of these mixes stir up into a dough that's safe to eat unbaked, so if you feel like licking the bowl at the end of the process, have at it!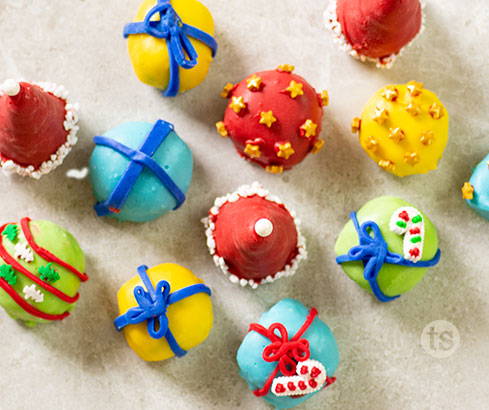 I used the same recipe for both mixes – Snowflake Sugar Cookie Truffles – and just swapped in the Monster Cookie Dough Mix for my second batch. It's a 5-minute mix-up to create the creamy dough center for the truffles. You can either form them into 1-inch balls as directed in the recipe, or use a little creative license like I did.
For the Snowflake Sugar Cookie Truffles I made 1-inch balls, then flattened the top and sides to form a square or rectangular shape. For the Monster Cookie Truffles, I reshaped the balls into a conical form. I chilled the naked truffle centers in the fridge for a couple of hours. Then it was decorating time!
Happily, we live in the 21st century, when we no longer have to endure the torture of meticulously melting and tempering chocolate. Now we can use alternatives like almond or chocolate bark or my favorite option, candy melts. These are easy to melt in the microwave and come in lots of fun colors – which was exactly what I was looking for with my holiday truffles.
I transformed the square-ish Snowflake Sugar Cookie Truffles into tiny holiday packages by dipping them in an assortment of candy melt colors, then decorating with sprinkles and purchased fondant "ribbons." Get as creative as you want to – or if you're in a hurry, a little shake of sugar sprinkles makes them pretty and quick.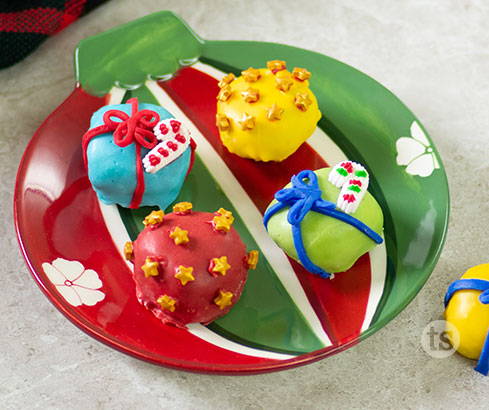 The Monster Cookie Truffles became little Santa hats. First I dipped the cone-shaped truffles in melted red candy melts and allowed them to dry to a firm shell. Then I redipped just the bottom of the cone in candy melt again and quickly rolled them in white sprinkles to form the hat's furry brim. A dap of candy melt was the glue to secure a sugar pearl to the top as a "tassel."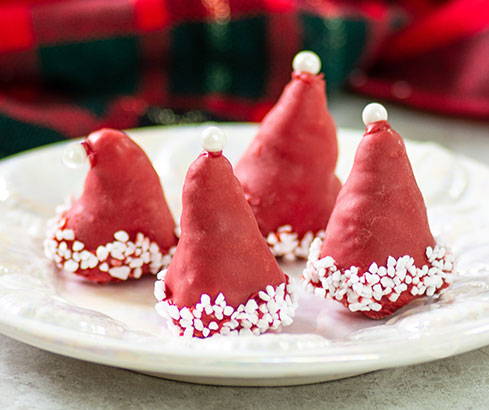 I had a lot of fun making these candies myself, and with adult supervision, this could be a fun family project. So leave that candy thermometer in the drawer. Anybody can make simply delightful truffles without being a master chocolatier.