Got (Wild) Game? We've Got Recipes.
Posted by Jen T. on 10.09.2020
Have a deer hunter in your family? Or looking to change up your usual dinner routine with a couple more exotic meats from your local butcher or grocery store?
Confession: I'm new to this.
Our family moved to a little hobby farm in the Minnesota countryside this winter, complete with five acres of wilderness. For the past four months, deer have walked through our yard nearly every day. (It's basically a live-action "Bambi" movie around here. We've even seen a bunny hopping around with a fawn a couple times.) But we're trying not to get too attached. Our neighbors are avid sportsmen and farmers who've generously dropped off baskets filled with everything from free-range eggs to garden-fresh peppers, and I suspect this winter we'll be gifted some venison as well.
Honestly, I'm still getting used to it all. Wild game is incredibly healthy though, since it's extremely lean with no additives or hormones. Plus, it's higher in protein and lower in cholesterol than beef, as well as packed with iron and other key nutrients – making it great for paleo lifestyles, too.
So I asked a few of my friends who've been making venison and wild game for years about their favorite recipes, tried-and-true tips, and helpful hints. Check out their advice!
Oh, Deer: Tips for Cooking Wild Game
1. Go Low & Slow. When it comes to wild game, your slow cooker is your best friend for creating deliciously tender roasts, soups and stews. Even cuts like shanks will break down during slow cooking, adding more richness to your dish.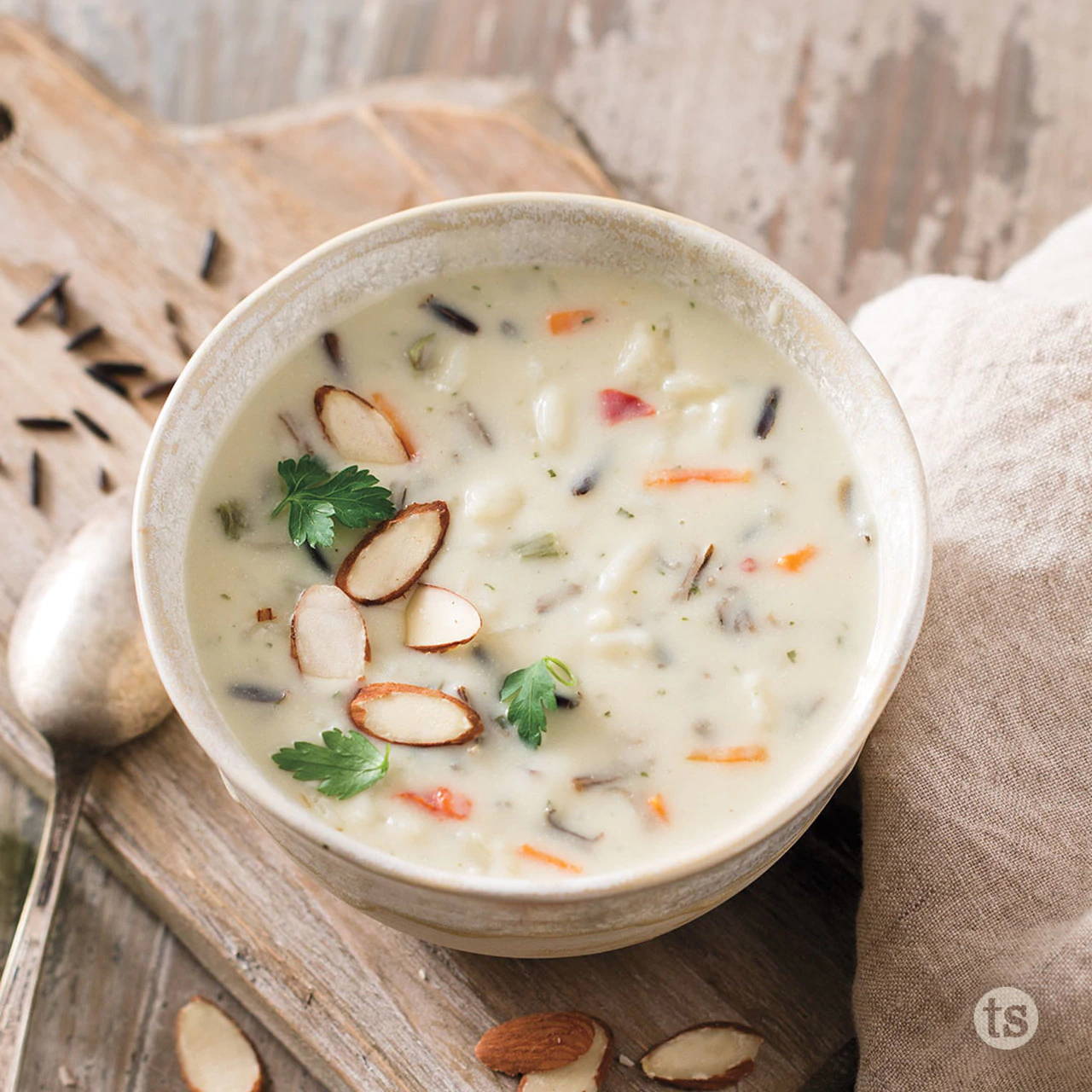 Tip: For a chilly fall day, try adding roasted pheasant or wild turkey to slow-cooked Creamy Wild Rice Soup.
2. Get Your Game On with Chili. Bubbling with savory spices, meat and beans, chili always makes a hearty one-pot meal for fall and winter – and it's perfect with ground venison, elk or other wild game. (It's pretty foolproof for beginners who aren't used to cooking with game, too!)
This weekend, we made this Wahoo Wild Game Chili brimming with black beans, warm spices, rich broth and ground elk, along with a side of buttery biscuits. It was delish! (You'll find the full recipe below.)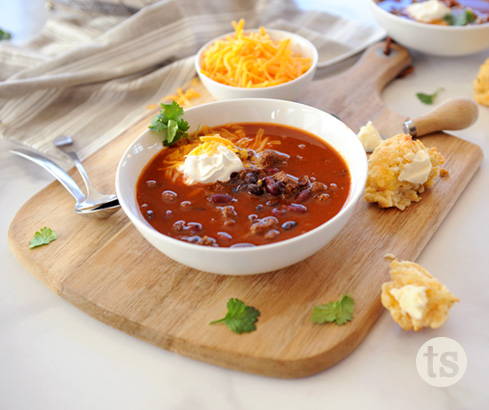 Note: since ground venison is extremely lean, you can also mix it 50/50 with ground pork or beef if you'd like. It works great for meatballs, too!
3. Add Liquid or Fat. Game is typically very lean, putting it at a higher risk of drying out. To counteract this, the best methods of cooking game either involve high heat for a short amount of time or adding a liquid (e.g., wine or stock) for slow cooking. You can also add fat, such as a little butter or bacon, to keep the meat succulent and flavorful.
4. Marinate for the Best Taste & Texture. Marinating overnight will tenderize and add rich, juicy flavor to wild game. In particular, our Merlot Sauce – infused with mellow red wine, black pepper Worcestershire sauce – pairs perfectly with venison.
Want to give it a try? Make this Merlot Bacon-Wrapped Venison (recipe featured below).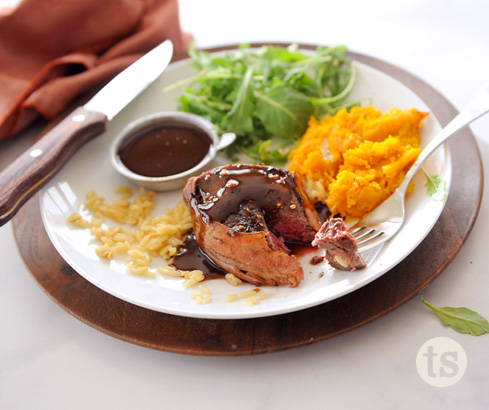 5. Use Aromatics & Herbs. Aromatics and woody herbs, such as garlic, thyme and rosemary, beautifully complement wild fowl and a wide variety of fish. (Tastefully Simple's Rustic Herb Seasoning has 'em all in one handy jar, too.)
6. Let It Rest. As a good rule of thumb, let cooked game rest for a few minutes, tented under foil, to redistribute the juices. Remember, the internal temperature of your meat will continue to rise about five degrees after you take it out of the oven, too.
7. Pick Complementary Harvest Flavors. Root vegetables make a delicious side dish for venison and fowl.
When selecting sauces, marinades and sides, these rich flavors also go beautifully with wild game: blackberries, apples, beer, Dijon mustard, black pepper, mushrooms, bacon and red wine.
Have your own tips and hints for cooking wild game? Let us know! We'd love to hear about your recipes and suggestions.
In the meantime, I have to admit – I still hope our own resident "Bambi" keeps a low profile in our woods this fall.
But when it comes to trying a few new exotic meats and dishes? I'm definitely game.
Enjoy!
- Jen
Merlot Bacon-Wrapped Venison
Directions:

1. In a quart freezer bag, combine steaks and Merlot Sauce; seal well and toss to coat. Refrigerate 8 hours or up to overnight.

2. Preheat oven to 400°F. Place a baking rack on a foil-lined rimmed baking sheet. Set aside. Remove steaks from bag. Discard bag with marinade.

3. Wrap each steak with a bacon slice, securing with a toothpick if necessary. Place on baking rack. Sprinkle each steak with Ultimate Steak Seasoning and top with ½ tablespoon butter.

4. Bake 15-20 minutes or until desired doneness. Broil 2-3 additional minutes until bacon is crisp.

Makes 4 servings.
Ingredients:

1 pound ground elk or venison
2 (15 ounce) cans tomato sauce
1 (16 ounce) can kidney beans, rinsed and drained
1 (15 ounce) can black beans, rinsed and drained
1 (14.5 ounce) can reduced-sodium beef broth
3 tablespoons Wahoo! Chili Seasoning
1 tablespoon Ultimate Steak™ Seasoning
1 tablespoon brown sugar
Shredded cheese, sour cream and fresh cilantro for garnish, optional


Directions:

1. In a large Dutch oven or saucepan over medium heat, cook and crumble ground meat until no longer pink.

2. Add next 7 ingredients; bring to a simmer. Simmer, stirring occasionally, 45-55 minutes.

3. Serve warm, topped with shredded cheese, sour cream or fresh cilantro if desired.

Makes 6 servings.

Slow Cooker Version: Prepare step 1. Add to a 5-quart or larger slow cooker with next 7 ingredients. Cook on LOW 4-6 hours.