How to Make a Holiday Antipasto Wreath
Posted by Jen T. on 12.08.2020
Love creating cute holiday appetizers? Or are you more of a freestyle cook?
Honestly, I'm a little bit of both. While I love getting inspired by beautiful dishes and desserts, I'm also a busy mom – and I can usually spot a #PinterestFail a mile away. (Frankly, I know my limits in terms of both skill and patience.) But whether you're a perfectionist pro or a free spirit, don't worry. Whatever your style, this fun and festive recipe will be the perfect fit. Behold … holiday antipasto wreaths!
Smoky cured meats. Salty olives and mozzarella. Sweet peppers and tomatoes. "Antipasto" is traditionally the first course of an Italian meal, and today we're giving it a ho-ho-holiday twist – all drizzled with the sweet tang of balsamic.
The best part? While it looks impressive, you really can't mess it up! Plus, you can personalize it with your family's favorite meats and veggies. Since it's served at room temperature, it's great for small gatherings or grazing on appetizers all afternoon – which is especially fitting for cozy celebrations this year.
How to Create Your Antipasto Wreath
Ready to create your wreath? Here's how to make it, complete with step-by-step photos. You can also see the full recipe here »
Step 1: Assemble Your Ingredients
Grab about 30-40 (4-inch) skewers or bamboo picks, depending how large you'd like to make your wreath. Then line up an assortment of different meats, veggies and cheese.
Here's what I used for my ingredients:
1 pint grape tomatoes
1 (15 oz.) jar artichoke hearts
1 (16 oz.) jar sweet cherry peppers
½ (8 oz.) container mozzarella pearls
15 slices genoa salami
15 slices spicy dry salami
10 basil leaves, sliced into thirds
30 large pitted olives
FYI, I used black olives and green ones stuffed with blue cheese, but kalamata would also be delicious. Pepperoncini, mushrooms, cheese tortellini and roasted red peppers would be great, too. Feel free to personalize your picks!

Step 2: Skewer & Shape
Thread 4-5 items onto a wooden skewer. Repeat to create 30 skewers, alternating the order of your ingredients for variety. (If you have picky kiddos, you can create some meat-and-cheese only ones, too.)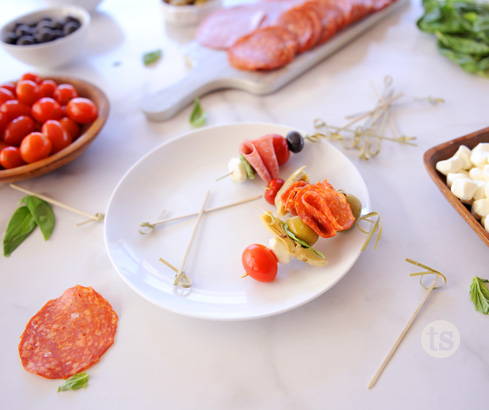 Arrange them tightly in a circle shape on a large serving platter or plate. Remember, you can create extra skewers as needed, too, depending on the desired size of your wreath.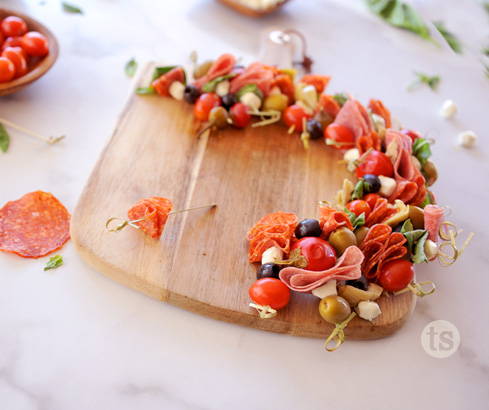 Step 3: Garnish & Serve

Tuck in a few small sprigs of fresh rosemary for garnish, and season with freshly ground black pepper to taste. Voila!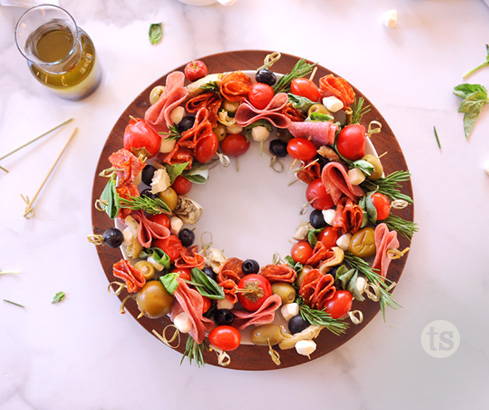 Just before serving, drizzle with a few tablespoons of Aged Balsamic Vinegar of Modena and/or Balsamic & Basil Dipping Oil. You can also serve it on the side, so everyone can drizzle their own skewers. Perfect with crostini, fresh bread and crackers … not to mention, a bottle of wine!
Fresh, festive, fun and foolproof. Now that has a nice ring to it.
Happy holidays, friends!

- Jen

Tips & Hints
• If you can't find mozzarella pearls, any fresh mozzarella will work. Just slice it into bite-sized chunks.
• Your antipasto wreath can be assembled up to 24 hours in advance. Store it in your fridge, and wait to drizzle it with balsamic and/or dipping oil until you're ready to serve.
• For meats, prosciutto and/or peppered salami would also be delicious. This time of year, you can often find charcuterie variety assortments in your local deli case, too.