How to Make Candy Cane Pizzas
Posted by Jen T. on 12.22.2020
Twinkling lights. Frosty trees. Candy canes.
It's beginning to look a lot like Christmas around here, even if this year isn't exactly typical. ("And Mom and Dad can hardly wait for school to start again" probably doesn't ring true if you've got kiddos who are distance learning or homeschooling right now.) But there are still so many ways to make the season merry and bright. In fact, if you're looking for a festive dinner idea or a fun activity with your kids this week, behold … homemade candy cane pizzas!
Now, technically, these charming creations are more of a pizza stromboli, or as we lovingly call them at our house, Fancy Hot Pockets. But they are so quick and delicious – and so cute!
Spicy pepperoni and sausage. Melty mozzarella. Buttery, flaky crust. This easy recipe makes two "candy canes," perfect with a salad for 4-6 people for dinner. Or you can cut smaller appetizer servings if you'll have all-day apps at home over the holidays.
How to Create Candy Cane Pizzas
Here's how to make 'em, complete with photos. You can also see the full recipe here »
Step 1: Meat & Marinara
Preheat your oven to 375°F. In a medium skillet over medium heat, crumble and cook ½ lb. Italian sausage (mild or hot – you choose!) until browned; drain if needed. Stir in 1 (8 oz.) can tomato sauce and 1½ Tbsp. Mama Mia Marinara Sauce Mix.
Reduce the heat to medium-low, and let it simmer.
Step 2: Toppings & Tucks
Next, you'll need 2 (8 oz.) tubes refrigerated crescent roll dough, one for each pizza.
Grab the first tube, and remove and separate the crescent rolls. On a large baking sheet lined with parchment paper, lay out 4 triangles in a straight line along the short ends, slightly overlapping the dough about ½ inch. Starting with the fifth triangle, begin curving the top of the candy cane. Basically, it will look like this: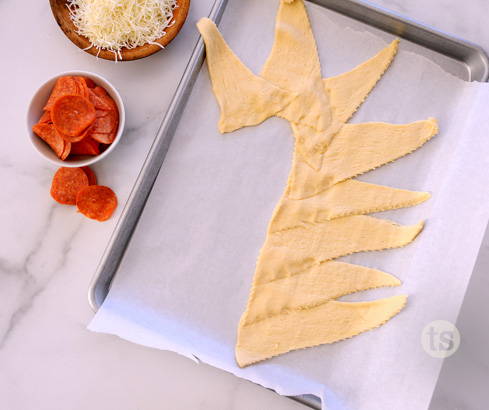 Spread half of the meat sauce along the widest part of the dough, and sprinkle with ½ cup mozzarella cheese and 12 slices pepperoni.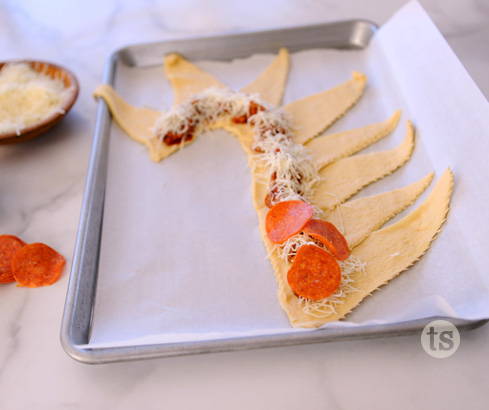 Now gently pull the triangle tips up and over the pizza toppings, tucking the tips under the bottom to secure them.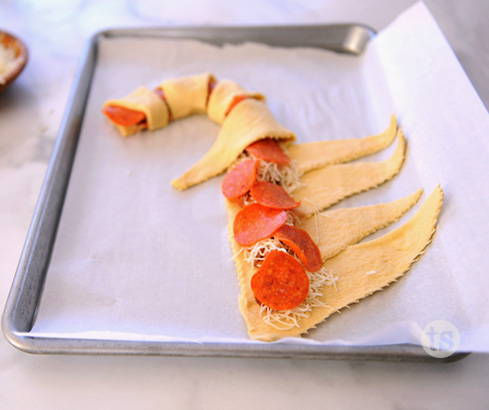 To assemble your second pizza, repeat the same process with the remaining meat sauce, along with another ½ cup mozzarella and 12 slices pepperoni.
Step 3: Bake & Bows
Brush your candy cane pizzas with 1 lightly beaten egg. Sprinkle each one with 1 tablespoon grated Parmesan cheese and/or sesame seeds. Bake 17-20 minutes or until golden brown. Ta-da!
Before serving, garnish each pizza with a few basil leaves for a "bow" to make 'em especially festive.
Talk about a fun twist on dinner, right?
Enjoy, and happy holidays to you and yours!

- Jen

Tips & Hints
• Feel free to personalize your pizzas with your favorite toppings – e.g., adding veggies or substituting ground beef in place of Italian sausage.
• Not a big fan of sesame seeds? Try a sprinkle of Rustic Herb Seasoning on your dough instead – it's delish!
• Try the same candy cane idea with different fillings, such as chopped chicken, Artichoke & Spinach Warm Dip and mozzarella