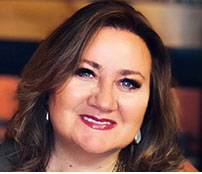 Stacy Sova joined Tastefully Simple in February 2021. As Vice President of Sales, she developed a compelling sales strategy, devises effective framework for consultant success in sales, sponsoring and leadership, and leads the execution of sales initiatives.
Stacy brings a long history in direct sales, with experience in both the consultant and corporate sides of the industry. Among her previous positions are Vice President of Training and Field Development with Youngevity International, Senior Vice President, Global Sales for BeneYOU and Jamberry, and positions with Norwex and Sensaria.
She holds a master's degree in curriculum and development from Michigan State University and a bachelor of arts degree from the University of Michigan. Stacy resides in Springville, Utah, with her husband of 31 years. They have three adult children and the family is growing with one son-in-law and two daughters-in-law to be.