what is Tastefully Simple?
Our name says it all! Tastefully Simple was founded in 1995 by Jill Blashack Strahan on the belief that people are in search of crazy delicious food that's insanely easy to prepare. Headquartered in Minnesota where Jill grew up, our first "warehouse" was a small shed where orders were packed on a pool table. Currently, approximately 75 team members work from a state-of-the-art facility at 1920 Turning Leaf Lane SW in Alexandria, MN.
our way of doing business
Tastefully Simple started as a party plan company, and this model continues to be our largest selling channel, with thousands of independent consultants throughout the country. They share our made-in-the-USA seasonings, sauces, baking mixes, meal and entertaining kits and gifts through home tastings, online parties, catalog sales and tastefullysimple.com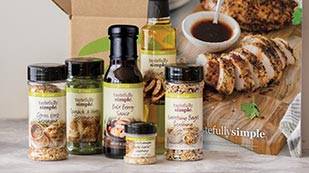 Though we're best known for our top-selling Bountiful Beer Bread Mix®, Tastefully Simple's product line includes signature seasonings, sauces and baking mixes, all prepared by adding two additional ingredients or less. Our TS EatWell products, which constitute 85% of our line, are clean-label foods that contain no artificial colors, flavors or preservatives.
As an entrepreneurial company, Tastefully Simple has always championed the opportunity for individuals - to become independent business owners as Tastefully Simple consultants. They earn sales commissions up to 40% and additional leadership income based on the sales of their teams. The company offers additional bonuses and incentives, including trips. Training and motivation is provided through annual national and leadership conferences as well as other events and online media. Learn more »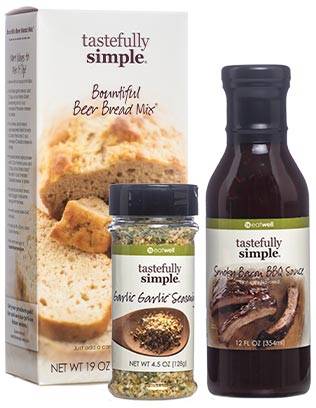 Tastefully Simple is known for its high-energy corporate culture, which extends to our consultant salesforce. Our Principles - Be Abundant, Make Magic, Do Your Best, and Be Real - offer guidance for how team members and consultants represent us in the world. Each year, outstanding consultants and team members, nominated by their peers, are honored for exemplifying the company's core values.
Tastefully Simple is proud to have been recognized as a top company in the direct sales industry. In 2000, Founder & CEO Jill Blashack Strahan was named an Ernst & Young Emerging Entrepreneur of the Year in the Minnesota and Dakota region. In 2005, the company was included in Inc. magazine's 500 Hall of Fame list for making the Inc. 500 list five times, and Jill Blashack Strahan was awarded Inc. 500 All-Star status.
Additional awards include Top Small Company Workplace national winnter (Inc. magazine and Winning Workplaces, 2011), Stevie Award for Women in Business Employer of the Year and Website of the Year (2008). The company ranked among top 5% of employers nationwide in employee satisfaction seven years running, according to a 2011 survey.

our passion
helping you create the life you love.


our core focus
easy-to-prepare, delicious food


foster peace of mind through win-win attitudes
stir a spark through excellence
create positive energy through celebation
build trust through humbleness
Tastefully Simple's team members live our core values by giving with gratitude, exceeding expectations, making magic and demonstrating abundancy and realness. The team supports consultants and clients through our distribution center, customer service team, new product development and more.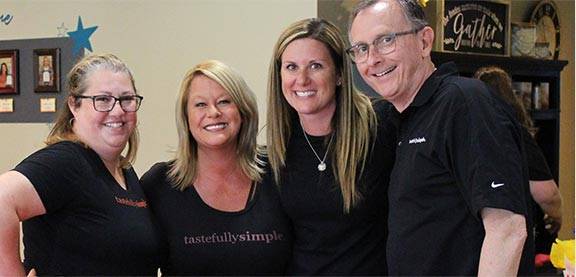 Each year, team members are nominated by their peers for Turn 'Em Loose awards recognizing those who best exemplify our principles.
Arnette Kneisl
Spirit of Tastefully Simple

Kara Carpenter
Be Abundant Award

Tammy Krick
Make Magic Award

Jackie Ranweiler
Do Your Best Award

Margaret Thompson
Be Real Award

Charlotte Zumhofe
Mighty Oak Award

Tastefully Simple began on a dream and a shoestring when Founder & CEO Jill Blashack Strahan had an "aha!" moment. Owner of a gift basket business, she realized that her clients were more interested in the food products in her baskets than in the baskets themselves. She decided to offer the same products at fun, easygoing gatherings in the comfort of people's homes. From humble beginnings, Tastefully Simple has grown into a multi-million dollar company.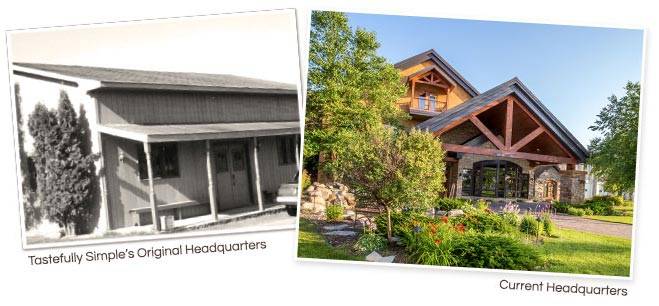 From packing orders on a pool table in a modest shed to our current state-of-the-art facility in Alexandria, Tastefully Simple has come a long way! Our thousands of independent consultants are sharing Tastefully Simple's simple, delicious foods and business opportunity across the nation, supported by a dedicated team of staff at Tastefully Simple headquarters.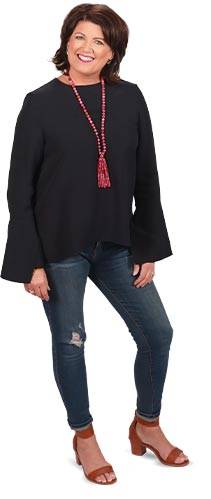 Hey, my friends.
Would you agree these are "interesting times?" Absolutely! The "Battle of the Budget" is very real. Stretching your dollar, without compromising the fabulous flavor you've come to love, is a challenge we are honored to help you solve.
Our meal kits have delicious, easy-to-prepare recipes and average less than $4 per serving. Batch cooking, freezer meals and value-priced items will give you more bang for your buck. And be sure to visit tastefullysimple.com for even more budget-friendly recipes.
Our passion is to help you create a life you love. We are grateful for the opportunity to serve you!

At Tastefully Simple, we believe in giving with gratitude. Since our company began in 1995, we've been proud to donate more than $7 million to worthwhile causes and organizations, both locally and nationally.
A few of our favorites include:
American Cancer Society's Relay For Life

Tastefully Simple is proud to participate in this annual event and the fight against cancer. Since 2009, Tastefully Simple and our consultants have raised over $1 million to support the American Cancer society.
other notable initiatives

United Way
Product donations to troops overseas and charities to be used in fundraising
And many more!
Thank you for your interest in our donation program. At this time we are not accepting grant requests.