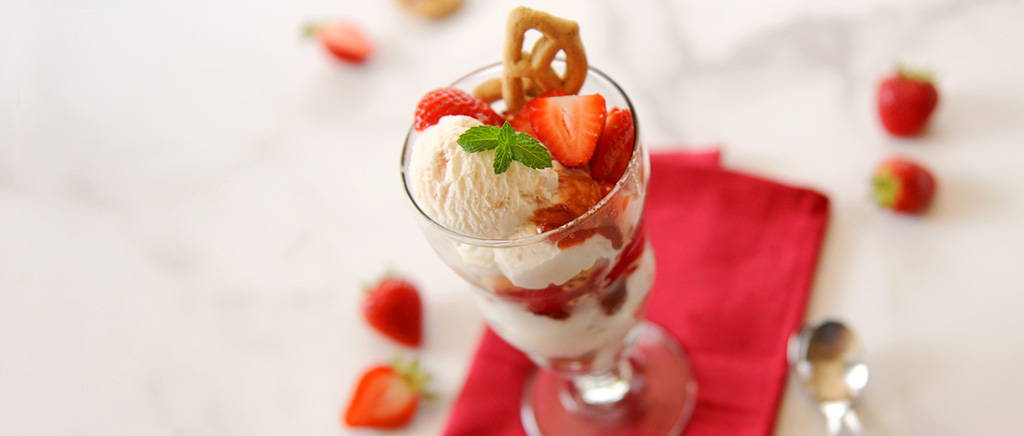 5 Sweet & Simple Strawberry Sundaes
Posted by Jen T. on 07.7.2021
Did you know that today is National Strawberry Sundae Day?

If you were looking for a reason to dish up a little ice cream, now you have the perfect excuse. (I mean, it's a holiday. You're just doing your part.) In fact, July is National Ice Cream Month, which means it's completely justified to keep the celebration going all month long, too.

Need a little sweet inspiration? Here's the scoop on a few of our favorite combinations!

5 Ways to Build Your Strawberry Sundae
1. Strawberry Trifle Sundae. Sweet strawberries. Luscious pound cake. Buttery caramel sauce. It all adds up to a heavenly summertime dessert.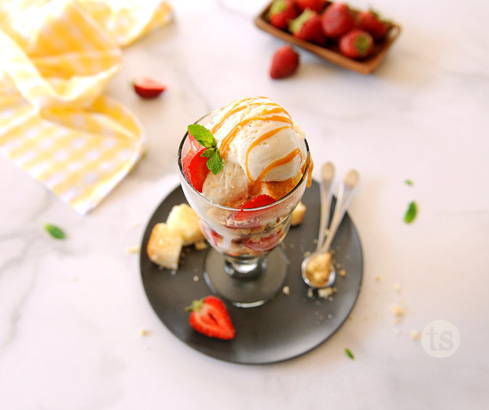 Simply cube Absolutely Almond Pound Cake, and layer it in clear glass dishes with scoops of vanilla ice cream and sliced strawberries. Then drizzle with warm Creamy Caramel Sauce. You can also add a couple crushed shortbread cookies or vanilla wafers on top if you like a little crunch!

2. Strawberry Cheesecake Sundae. Did you know Rhubarb Strawberry Fruit Spread makes a deliciously sweet and slightly tart ice cream topping? Simply pop it into the microwave, and warm it for 20-25 seconds.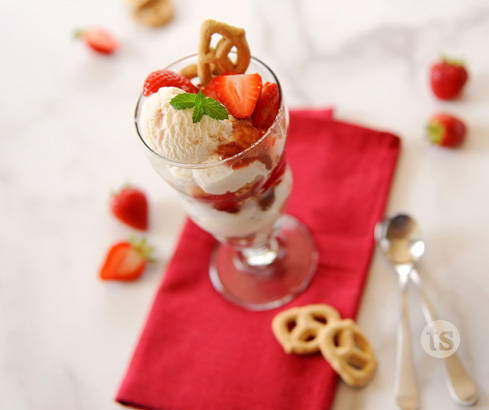 Spoon it onto cheesecake-flavored or vanilla bean ice cream, and then garnish with fresh strawberries and crumbled Twisty Grahams. This one comes together in five minutes flat, making it perfect for unexpected guests or a quick afternoon snack for the kids.

3. Pound Cake Sundaes. Looking for a tropical twist? So fresh, fun and fruity, these pretty pound cake sundaes are topped with ice cream, pineapple chunks and sliced strawberries – all drizzled with warm swirls of strawberry sauce and caramel.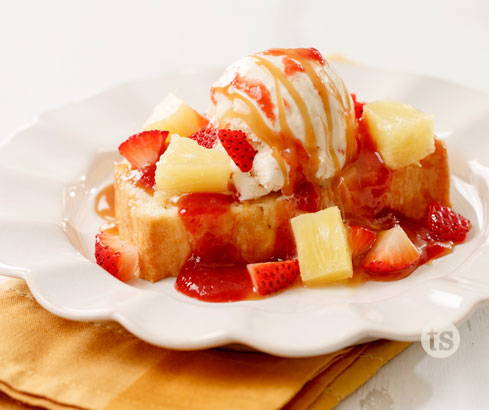 If you love different textures, you can lightly grill your pound cake slices, too. It's perfect for entertaining on the patio.
4. Spiked Strawberry Mug Cake. Just for grown-ups! If you need a sweet escape, make this mug cake in a minute, spiked with a splash of caramel vodka.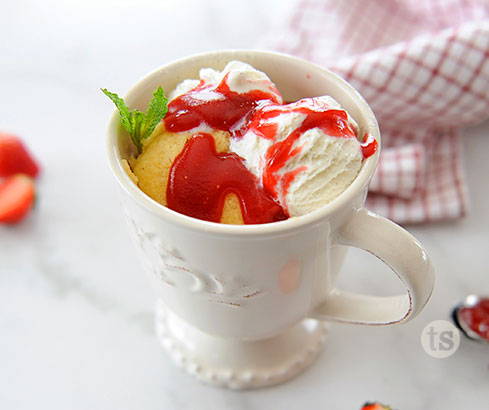 Top your warm cake with a scoop of vanilla ice cream and sweet spoonfuls of strawberry sauce. It's a perfect sundae for one!

5. Strawberry Brownie Sundaes. Love chocolate-covered strawberries? Stack squares of fudgy Butterscotch Brownies with sliced strawberries and vanilla ice cream. Add a drizzle of hot fudge and warm Rhubarb Strawberry Fruit Spread. Voila!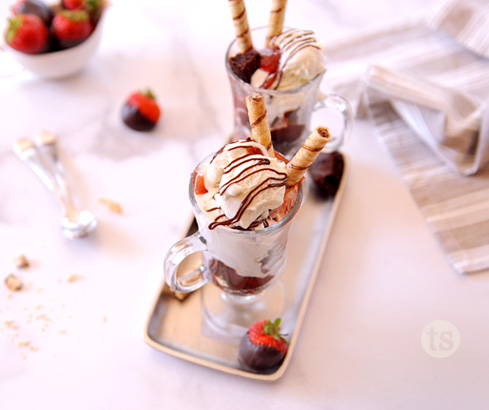 Tip: Gently heat your brownies in the microwave beforehand, so you can spoon up all that warm, melty chocolate-strawberry goodness.

But wait … what if you can't decide? Simply create a little "build-your-own-sundae" bar, especially if you want to invite over a few friends or do something special for the kiddos. Set out bowls of different toppings with fresh fruit, chocolate, cubed brownies and pound cake, sandwich cookies, sprinkles, coconut or your other favorite mix-ins.
No matter what you choose, it's the perfect excuse to celebrate the little things … and enjoy the sweet taste of summer!

- Jen